Embiid's Health Crucial for Sixers' Success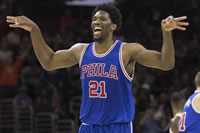 Embiid was a force last season – well, if one considers 31 games played out of 246 possible grounds enough to consider a player to be a "force." Still, there's no doubt that Embiid did well in the few games in which he was able to participate (the Sixers were 13-1 while he was active) before being sidelined for the year with a seriously broken foot. Embiid averaged 20-plus points, nearly eight rebounds, two assists and at least two blocks per game in each of his 31 starts in the 2016-2017 season, so if he stays healthy this time around (as his minutes restriction indicates coach Brett Brown aims to keep him), then the 76ers have a shot at shaking up the Eastern Conference.
Though that's a big "if," it doesn't look nearly so big after the Boston Celtics as a whole suffered what could be a season-ending injury when Gordon Hayward, their lynchpin player, gruesomely broke his leg and ankle in the first quarter against the Cleveland Cavaliers. Now perhaps more than in a long time it looks as though Philadelphia stands a good chance to make some noise and finally step into winning-season territory.
The Sixers have the depth and the breadth of young talent to at least make a go of it, with names like Robert Covington and JJ Redick providing the reliable performance they'll need and up-and-comers like Markelle Fultz supplying the promise of better days to come. This combination of veteran experience and youthful vigor puts the 76ers in a unique position in the NBA's upper echelon: they have the capability to achieve several enviable goals in '17-'18. they can at least put up a winning record for the first time in what seems like ages, they can develop a young and promising talent pool that could make them successful for years to come and they could do more than just squeak into the Eastern Conference playoffs, especially with Boston's future uncertain.
However, SportsBettingPennsylvania.com thinks all that ultimately depends on just how available Embiid will be this year. He's proven that he can turn the tide of a game with only a few minutes on the hardwood, but the trainers and coaching staff have got to watch him closely to make sure he doesn't have any more lingering hurts from last season's broken foot. If he does, it could be a bad break for the whole team.

Best Pennsylvania Sports Betting Sites - 100% Trusted + Safe
| | | | | |
| --- | --- | --- | --- | --- |
| | | 50% Up To $250 | VISA + Wire Transfer | |
| | | 50% Up To $1,000 | VISA, Bitcoin, Cash Wire | |
| | | 50% New Member Bonus! | VISA, Bitcoin | |
| | | 100% Up To $300 | VISA, Bitcoin | |
| | | 50% Up To $1,000 | Bitcoin, Wire Xfer, VISA | |