Online Sports Betting Is Coming To Pennsylvania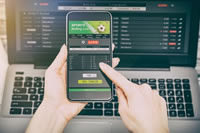 While PA residents have been able to bet on sports over the Internet for years at sites like Bovada and SportsBetting (and others), official state-based online sports betting is coming to Pennsylvania in the near-term future. In fact, PA might be one of the first states to actually roll out an Internet-based sports wagering platform for its residents, as the activity is officially legalized in Act 42 (HB 271), which was passed in the Q4 2017.
Here is the part of the law that explicitly establishes online sports betting in the state as being a de facto part of the package that PA is putting forward (§ 13C01). In it, "sports wagering" is defined as
"[t]he business of accepting wagers on sporting events or on the individual performance statistics of athletes in a sporting event or combination of sporting events by any system or method of wagering, including over the Internet through websites and mobile applications…"
Further evidence that online sports betting is coming to Pennsylvania can be found later in the bill as well. § 13C11(a)(1)(i) clearly states that the state gaming commission "may authorize a slot machine licensee to conduct sports wagering...at the slot machine licensee's licensed facility...or through an Internet-based system."
Recent reports indicate that the Pennsylvania Gaming Control Board (PGCB), which is overseeing the licensing application process for PA-area casinos to offer sports betting, is also working on getting the state's online sports betting program up and running simultaneously.
Naturally, any legal online wagering that happens in-state will have to be geo-fenced (by users' IP addresses or GPS locations) to comply with the federal Interstate Wire Act (1961), which still makes it illegal for bookmakers to accept bets across state lines. However, the technology to accomplish this is well-established, and it should be a relatively simple thing for PA to piggyback off of its state lottery app technology to provide a mobile sports betting solution to its residents sooner rather than later.
Most analysts believe that online sports betting is coming to Pennsylvania sometime this year, but there is some concern that if the PGCB is focusing on rolling out everything all at once (with casinos, "mini-casinos," OTB locations, and online portals all going live with sports betting in tandem), the entire process might be delayed until early 2019.
Of course, SportsBettingPennsylvania.com knows that would mean missing the extremely lucrative NFL season, so most folks view the start of the 2018 NFL campaign to be to "unofficial" deadline (or soft deadline) for Pennsylvania to open sports betting up to the public.
Best Pennsylvania Sports Betting Sites - 100% Trusted + Safe
| | | | | |
| --- | --- | --- | --- | --- |
| | | 50% Up To $250 | VISA + Wire Transfer | |
| | | 50% Up To $1,000 | VISA, Bitcoin, Cash Wire | |
| | | 50% New Member Bonus! | VISA, Bitcoin | |
| | | 100% Up To $300 | VISA, Bitcoin | |
| | | 50% Up To $1,000 | Bitcoin, Wire Xfer, VISA | |