Penn. Senate Meets In Special Session On Budget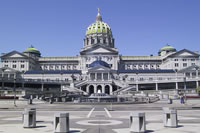 The Pennsylvania Senate will conclude its brief special session to finalize the state budget today, and the possibility for gaming reform seems closer than ever.
Closer is a relative term, however, as there is still a long way to go before Pennsylvania can legalize online gambling and daily fantasy sports. Leadership in the House of Representatives has seen to that, thanks to what could probably be described as diversionary tactics. But stalling or no stalling, Pennsylvania is still strapped for cash, is still revenue-poor and is still facing a $1.5 billion budget shortfall from last year, plus there's a projected $700 million shortfall to deal with for this fiscal year as well.
During an earlier summer session last weekend, Speaker Mike Turzai called off negotiations on what was shaping up to be a proposed budget that the House and Senate could actually agree on. His alternative plan, which didn't exactly catch on with his colleagues (in fact, it didn't even make it to committee, much less get on the floor), essentially doubling down on a no-new-tax stance. Turzai's gamble didn't pay off because his fellow House members understandably didn't want to back home to their blue collar, conservative constituents and tell them their legislators' plan was to take a siphoning hose to the vital public service funding.
Having declined to vote or even discuss a "Plan B" that did not involve slashing public services, the House in essence has called on the Senate for a do-over to balance the budget. This will, in all likelihood, prove to be an exercise in futility for Turzai, as the Senate's proposed budget, which includes earmarks for revenues from a gaming reform and daily fantasy sports regulation, already has the support of just about everyone except the House leadership. Senate Democrats and Republicans of all stripes, Pennsylvania Gov. Tom Wolf, House Dems and even centrist GOP representatives all agree that a combination of some new taxes on things like natural gas consumption and basic cable television, a tobacco settlement and gaming expansion is the way to go.
The trouble is, the package that includes legislation for online gaming and daily fantasy sports regulation hasn't been passed yet. So, just like last year, the governor and the legislature (or at least three quarters of it) are counting their chickens before they hatch by figuring on hundreds of millions of dollars in extra tax revenue that they haven't yet secured with a legal framework for sports betting for Pennsylvania.
If the Senate does pass a revenue package out of the special session sometime today – and there's not much reason to doubt they will, given the widespread support such a plan enjoys – then the ball will be back in the court of Turzai and co. However, they ought to consider the potential fallout of kicking the can down the road until after the summer legislative recess if they decide to go down the no-vote route again. Pennsylvania is about to get its credit rating downgraded if it fails to balance the budget, and that means a freeze on some federal funding for schools, social service programs and hundreds of millions in state aid for the state's major universities.
If the House GOP wants that kind of burden hanging over it just because more taxes in tough times and online gaming and daily fantasy sports expansion is unpalatable, then those representatives may want to go ahead and plan for an early retirement.
Best Pennsylvania Sports Betting Sites - 100% Trusted + Safe
| | | | | |
| --- | --- | --- | --- | --- |
| | | 50% Up To $250 | VISA + Wire Transfer | |
| | | 50% Up To $1,000 | VISA, Bitcoin, Cash Wire | |
| | | 50% New Member Bonus! | VISA, Bitcoin | |
| | | 100% Up To $300 | VISA, Bitcoin | |
| | | 50% Up To $1,000 | Bitcoin, Wire Xfer, VISA | |