Penn State Has The Tools To Beat OSU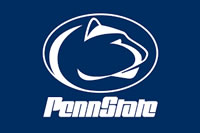 The Penn State Nittany Lions are good this year – seriously good – in a way that they haven't been in decades, and that comes down in large part to the assemblage of high-quality talent on the roster.
Penn State (7-0, ranked No. 2 nationally) will be put to the test Saturday night against the 6-1 Ohio State, which is also tied for top spot among Big 10 East teams, but the analytics point toward the Nittany Lions having the staffing advantage, if however slightly. The depth that Penn State brings to the field is highlighted by players like its star running back Saquon Barkley, who is at the head of the pack among contenders for the Heisman Trophy this year, its capable all-arounder quarterback Trace McSorley and supporting staff like wide receiver DaeSean Hamilton and lead tackle Jason Cabinda. These players have contributed to make Penn State a team that scored 40-plus points per game but gives up just a shade over 9 points, and their individual stats are even more impressive.
Barkley has 757 rushing yards and 8 touchdown runs this year, but he's also Penn State's leading receiver with 448 yards and 3 TDs via connections with McSorley, and he's even got a kick return for a score and, shockingly, a touchdown pass to round out his resume. The kid is an absolute force on the field and Ohio State, good as the Buckeyes are, really has nobody to match him.
McSorley is performing ably as well, completing 147 of his 22 passes so far this season for a total of 1,879 yards through the air, of which 14 passes were TDs, all at the cost of just 5 interceptions, and those against teams that covered the pass far better than Ohio State. Additionally, McSorley brings with him the capabilities of a runner, amassing 254 rushing yards and 7 touchdown carries. The Buckeyes are going to have their hands full containing him.
Hamilton, for his part, is playing second fiddle to Barkley as a receiver, but nobody on the team has come through in desperate situations like Hamilton. He caught 28 passes under intense pressure and accrued 481 yards and 4 touchdowns in the process. That means Ohio State is going to have to watch out for two top-level targets for McSorley.
SportsBettingPennsylvania.com thinks Cabinda is probably the Big 10's best defensive player and certainly one of the most dependable. The brawny but agile Cabinda has racked up 52 tackles over the course of the 2017-2018 campaign, among them 4 tackles for losses and 1.5 sacks.
The threat posed by Cabinda on defense and pressure applied by the three-piece Nittany Lions offense has got to have Ohio State's best weapon, quarterback J.T. Barrett, at least a little concerned. That's not to take anything away from his startlingly good performance of late, as the senior starter has thrown 138-for-207 this year for a total of 1,838 yards and 21 touchdowns (and he, unlike McSorley, only has 1 INT against him). However, receivers like Parris Campbell and running backs like J.K. Robbins, good as they might be, are decidedly sixth-place compared to Penn State's crew, which, were it not for Alabama holding fast at No. 1, are good enough to be considered the nation's best.
Best Pennsylvania Sports Betting Sites - 100% Trusted + Safe
| | | | | |
| --- | --- | --- | --- | --- |
| | | 50% Up To $250 | VISA + Wire Transfer | |
| | | 50% Up To $1,000 | VISA, Bitcoin, Cash Wire | |
| | | 50% New Member Bonus! | VISA, Bitcoin | |
| | | 100% Up To $300 | VISA, Bitcoin | |
| | | 50% Up To $1,000 | Bitcoin, Wire Xfer, VISA | |