Pennsylvania Casinos Holding Off On Applying For Sports Betting Licensing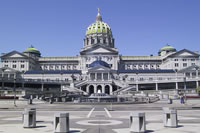 Pennsylvania sports betting has been in the works since 2017 when legislation was passed into law making sports betting legal in the state. This law, HB 271, allowed for Pennsylvania casinos to offer sports betting at their venues, as well as through online terminals. Everything in the piece of legislation was kept from being put into action until such a time that federal restrictions were lifted, however, and so the law remained dormant for more than a year.
Everything changed in May 2018, however, when the Supreme Court overturned PASPA. Pennsylvania lawmakers immediately gave the green light to the Gaming Control Board. Less than a month later, they were able to release a document containing guidelines that would govern the first stages of legal sports betting in the Keystone state.
Pennsylvania's legislation released temporary guidelines to regulate sports betting in the state on May 31st. As far as a regulatory document on sports betting goes, it's one of the most permissive in the works. Pennsylvania's Gaming Control Board is essentially giving category 1-3 casinos free reign on what and how they would like to offer sports betting.
The main stipulation to this is that the sportsbook must be physically connected to the area's gaming floor. Under this stipulation, Racinos (Category 1 licensees) will be able to run a sportsbook, so long as they use off-track betting facilities in the state.
Category 4 facilities, or "mini-casinos", will also be allowed to offer sports betting, Pennsylvania residents will be happy to know. While the law which allowed for sports betting to be legalized in Pennsylvania explicitly allows for online and mobile sports betting to take place, the Gaming Control Board has yet to add guidelines for those types of regulations. Expect to see those soon, though, because the Gaming Control Board is hoping to launch casino, mini-casino, racino, and online sports betting at the same time.
On June 1st, Casinos in Pennsylvania were allowed to begin applying for licensure in order to offer sports betting. Not a single casino has taken advantage of this, however. With everything else falling into place so quickly after SCOTUS threw out PASPA, you might be wondering what the holdup is. The main reason could be the hefty price tags that the state legislature has attached to the application for a Pennsylvania sports betting license.
Casinos and gambling facilities will have to pay a $10 million licensing fee in order to obtain the proper registration to provide sports betting to Pennsylvania residents. In addition to the exorbitant one-time fee, casinos would also be taxed at the highest percentage in the gambling world – 36% of revenues would be owed in taxes annually.
In addition to this, mini-casinos, which are technically classified as Category 4 casinos, may be owned by a larger casino, but will not fall under the umbrella of the original license. This means that if owners of the mini-casinos in the state want to offer sports betting at a Category 4 venue, they'll have to throw down an extra $10 million.
The Pennsylvania Gaming Control Board has given gambling venues in the Keystone state 120 days to apply for licensure. Professional football and Collegiate football seasons both start within that 120 day period and may be a key factor in at least some casinos breaking down and paying for licensing.
Pennsylvania has 12 casinos in the state currently, with a 13th scheduled to open in the near future. But the somewhat ridiculous fees are making outside forces think twice before they attempt to get in on the action in Pennsylvania. "The tax rate is such a big challenge," said Joe Asher, CEO of UK-based bookmaker William Hill. "Because of it, we haven't spent the time or effort in Pennsylvania that we have in New Jersey."
With the Pennsylvania Gaming Control Board attempting to roll everything out all at once, and with only temporary regulations released, SportsBettingPennsylvania.com expects to see a push for everything to be ready by late 2018. That being said, state legislators have stated that they will work to get everything right, rather than just rushing everything to be done before the end of the year. If legislators hit a snag in finalizing legal issues, it is not out of the question for Pennsylvania sports betting to have a start date in early 2019.
Best Pennsylvania Sports Betting Sites - 100% Trusted + Safe
| | | | | |
| --- | --- | --- | --- | --- |
| | | 50% Up To $250 | VISA + Wire Transfer | |
| | | 50% Up To $1,000 | VISA, Bitcoin, Cash Wire | |
| | | 50% New Member Bonus! | VISA, Bitcoin | |
| | | 100% Up To $300 | VISA, Bitcoin | |
| | | 50% Up To $1,000 | Bitcoin, Wire Xfer, VISA | |