Pennsylvania One Step Closer To Having Legal Sports Betting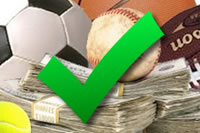 HB 519. That's the name of the bill that is slowly but surely attempting to bring sports betting to Pennsylvania.
The bill purports to create a regulatory commission under Pennsylvania's Gaming Control Board, installing sportsbooks in both casinos and racetracks in the state. It also lays out a tax plan and basically covers all of the bases when it comes to having legal sports betting in a state, including penalties and other regulatory issues that may come up.
On April 25th, this piece of legislature took a very important step in the legalization process, passing through the committee it was referred to. Many bills are killed in Committee, so the fact that this piece of legislature made it through is significant. There's still a long way for this bill to go, however. It has to pass the house, for one thing. It is expected to go through, but anything can happen in a legislative session.
After making its way through the House, it will go to the Senate for revisions and approval. If revisions are made, both the House and the Senate will have to approve them before the bill can be passed by both groups and then sent to the governor to sign into law. Revisions are proposed by the committees that the bills are referred to, and sometimes, bills don't make it through committees to even be voted on before session ends.
Multiple similar bills can also be merged together to create a larger bill that later gets passed, which changes the original content of each. Basically, there are hundreds of different possibilities that can happen when a bill gets proposed. And even if HB 519 makes it all the way through the process and gets signed into law, there's no guarantee that sports betting will be brought to Pennsylvania anytime soon. That's because this bill doesn't try to go against the federal sports ban.
Will Pennsylvania's Bill Get Rid Of PASPA?
No, this bill doesn't go up against the federal sports betting ban. Instead, the verbiage used in HB 519 states that the only time the bill will enact any regulatory commission is after there is a change to the federal stance on sports betting. So, it's more of a passive bill, taking a different approach to the issue of the federal sports betting ban, compared to the more combative ones making their way through Michigan and West Virginia.
Basically, Pennsylvania's HB 519 is preparing for a contingency that might never happen. Instead of saying we want sports betting and this is how we are going to do it, this bill outlines and creates regulatory committees and commissions for sports betting in the state if and only if "Federal law is enacted or repealed or a Federal court decision is filed that affirms the authority of a state to regulate sports wagering."
So Why Does This Matter?
On the surface, it might seem like a bill passing through a single committee might not be a big deal. But it sort of is. Aside from clearly showing that lawmakers in PA believe a big change to the federal sports betting law is coming, HB 519 and other bills like it making their way through other state legislatures (Maryland, New York, Michigan, to name a few) show that individual states want the ability to regulate sports betting.
I guess what I am trying to get at here is: They don't think it's a problem anymore.
Sports betting has long been a taboo topic, with its ties to organized crime and cheating scandals within the sports world. But with online sportsbooks coming onto the scene, pretty much everyone does it anyways. So, with Pennsylvania sports betting on the the minds of the legislature like this, it must be the opinion of Pennsylvania lawmakers that they might as well regulate, tax, and profit off of it.
Best Pennsylvania Sports Betting Sites - 100% Trusted + Safe
| | | | | |
| --- | --- | --- | --- | --- |
| | | 50% Up To $250 | VISA + Wire Transfer | |
| | | 50% Up To $1,000 | VISA, Bitcoin, Cash Wire | |
| | | 50% New Member Bonus! | VISA, Bitcoin | |
| | | 100% Up To $300 | VISA, Bitcoin | |
| | | 50% Up To $1,000 | Bitcoin, Wire Xfer, VISA | |