The 76ers Could Make It to the Playoffs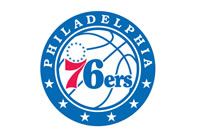 It might seem like a longshot, and it is, but the Philadelphia 76ers shouldn't be counted out when it comes to squeaking into to the 2017-2018 NBA Playoffs.
No, really. Nobody in their right mind would say Philadelphia is going to pull off some kind of miraculous championship-winning run, but the fact is the 76ers don't have to. They've got something very much in high demand in the current NBA climate: call it long-term prospects, call it youth, call it what you will, but no team in the Eastern Conference has the kind of talent pool to draw from that the 'Sixers do. Young as many of its key players are, there isn't a team in the NBA that has better growth potential, and the season, which starts Wednesday night for the 76ers (2-3 in the preseason) with their game against the Washington Wizards, will inform a lot of what could be in store for this year.
The youngsters account for all this talk are Markelle Fultz, Joel Embiid and Ben Simmons, the three of which the Philadelphia Inquirer has dubbed the 'Sixers' "Big Three." Each of the young men shows tremendous potential in his own way, but each is facing his own variety of difficulties, principally with regard to some nagging injuries that may limit on-court time early in the season.
Fultz, 19, the number 1 overall draft pick after playing one season with the University of Washington Huskies, didn't see much action in the preseason due to some persistent knee and shoulder soreness, leading to the decision by head coach Brett Brown to start him off on the bench. Embiid similarly will be handled cautiously in the opening phases of this season, as he played only 31 games last year after suffering a torn meniscus in his left knee that cut short a fantastic debut in which he averaged 20.2 points, 7.8 rebounds and 2.5 blocks per game. Simmons too had a season-ending injury – a fractured right foot – but the 6-foot-10, 240-pound point guard is keyed up to transition into more of a ball-handling roll after being sidelined all of last year, and he's got the goods to back it up and maybe "reinvent" the position as the Inquirer intoned.
But whether Philadelphia has success or doesn't won't be solely down to how well those three do, as there is plenty of additional firepower besides. Backing up the young'uns are veterans JJ Reddick and Robert Covington. The former, acquired on a one-year, $23 million contract from the LA Clippers, will bring to the 76ers unprecedented spacing capabilities due to his sniper-like aim at long range and the wisdom of an experienced player to help guide his younger team mates. The latter possesses an almost unparalleled work ethic, and he had to have it as the team relied on him last year as its primary 3-point shooter and defensive specialist (the role for which he is most clearly gifted), but it's ultimately his incredibly dedicated team-first approach that make him so valuable to a developing team like the 'Sixers.
Reliable supporting players like Justin Anderson, Richaun Holmes, Amir Johnson, T.J. McConnell and Dario Saric further make the case for a 76ers entry in the playoffs more plausible, even if they have to eke their way in as the eighth seed in the Eastern Conference and have to get past Division foes like the Boston Celtics and the Toronto Raptors to get there.
Sharp bettors would do well to take note. Bovada.lv, the industry's leading legal offshore sportsbook site, is listing the 'Sixers at odds of +6600 to win the championship – probably not a smart move just yet, but wait and see. There's a nice season prop bet available as well: +145 odds that Philadelphia will have over 41 ½ wins, and that seems like a very worthwhile investment, at least in this scribe's humble opinion.
The best part for the team is that, win or lose, the 76ers are likely going to be winners in the long run. Whether or not Philadelphia turns out to have a bumper crop of regularly season wins this year or if they manage to cobble together a quasi-Cinderella story that ends in a first round defeat, SportsBettingPennsylvania.com knows the 'Sixers are still going to be lightyears ahead of the competition next year and the year after that. And in the shortsighted age in which we find ourselves as NBA fans, a little bit of long-term planning goes a long way toward paying big dividends.
Best Pennsylvania Sports Betting Sites - 100% Trusted + Safe
| | | | | |
| --- | --- | --- | --- | --- |
| | | 50% Up To $250 | VISA + Wire Transfer | |
| | | 50% Up To $1,000 | VISA, Bitcoin, Cash Wire | |
| | | 50% New Member Bonus! | VISA, Bitcoin | |
| | | 100% Up To $300 | VISA, Bitcoin | |
| | | 50% Up To $1,000 | Bitcoin, Wire Xfer, VISA | |