Todd Haley Let Go As Steelers' Offensive Coordinator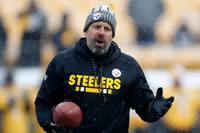 It looks like 2018 will be Todd Haley's last as the offensive coordinator for the Pittsburgh Steelers.
The Steelers' upper management, including head coach Mike Tomlin, issued the announcement Thursday, Jan. 17, that Haley will not return for the 2018-2019 season, marking the end of what was a successful six-year stint with the team. During Haley's tenure, Pittsburgh went 73-29 overall, which is pretty remarkable considering the tough schedules the Steelers faced in a historically strong AFC. More impressively, the Steelers earned a Super Bowl berth in Haley's first year with the team and had Playoff appearances in all but two of Haley's six, though they were kept from making it to the 52nd edition of the so-called "Big Game" this past season.
However, lest anyone attribute Tomlin's decision not to re-up Haley to what was the admittedly brutal 45-42 loss to Jacksonville on Jan. 14 that Pittsburgh suffered at the hands (well, the arm) of much-maligned Jags quarterback Blake Bortles, the truth is Haley's QB problems were on his own side. Big Ben RoethlisBerger, one of the NFL's best quarterbacks never got along too well with Haley, and the two men repeatedly disagreed on the topic of play-calling, even as the latter helped craft some of the former's best on-field performances to date. Apparently, the two men, good as their combined results were, frankly couldn't stand each other, and their inability to get along is quite obviously what drove a lot of the "move along" Haley received Thursday afternoon.
So who is in to fill the gap left by Haley's canning? The smart money appears to be on quarterbacks coach Randy Fichtner, who is well-known to be a close buddy of Roethlisberger and Mike Munchak, who heads up the offensive line coaching duties (and recently turned down a second interview to fill the now-vacant head coaching position for the Arizona Cardinals. Perhaps most crucially, Fichtner was Big Ben's go-to guy on the sidelines in the Steelers' most recent games, acting as a go-between for Roethlisberger and Haley.
SportsBettingPennsylvania.com points out that Haley's contract was technically up for renewal anyway, so Tomlin can avoid any allegations of having canned his offensive coordinator by sticking to the story that he merely let the contract lapse. In a statement released via the Steelers' official press channels, Tomlin thanked Haley for "his contributions to our offense the past six years" while wishing him well "in his coaching future." What that future might be is anyone's guess, but Haley – a former head coach for the Kansas City Chiefs, will doubtless get scooped up somewhere, though the man himself hasn't yet spoken on the matter
Best Pennsylvania Sports Betting Sites - 100% Trusted + Safe
| | | | | |
| --- | --- | --- | --- | --- |
| | | 50% Up To $250 | VISA + Wire Transfer | |
| | | 50% Up To $1,000 | VISA, Bitcoin, Cash Wire | |
| | | 50% New Member Bonus! | VISA, Bitcoin | |
| | | 100% Up To $300 | VISA, Bitcoin | |
| | | 50% Up To $1,000 | Bitcoin, Wire Xfer, VISA | |